OCT 03 / 17
Ookla the Mok's new album "Live at Windycon" is now available!
This 32 track double live album was recorded last November and features the original Classic Ookla line up of Rand Bellavia, Adam English, Luis Garcia, and Mike Mallory.

---
JUN 09 / 16
Ookla Performing at Elmwood Avenue Festival of the Arts
The Elmwood Avenue Festival of the Arts is one the highlights of the Buffalo summer, and Ookla the Mok is proud to announce that we have been booked to play a concert at this year's festival, which takes place on Saturday, August 27. We will be performing at 1:00 pm on the St. James Stage. See you there!
Also, please note that we will be performing at several local cons over the next few months. See our gigs section (to the right) for more information.

---
MAY 21 / 15
OOKLA UNPLUGGED AT AW YEAH COMICS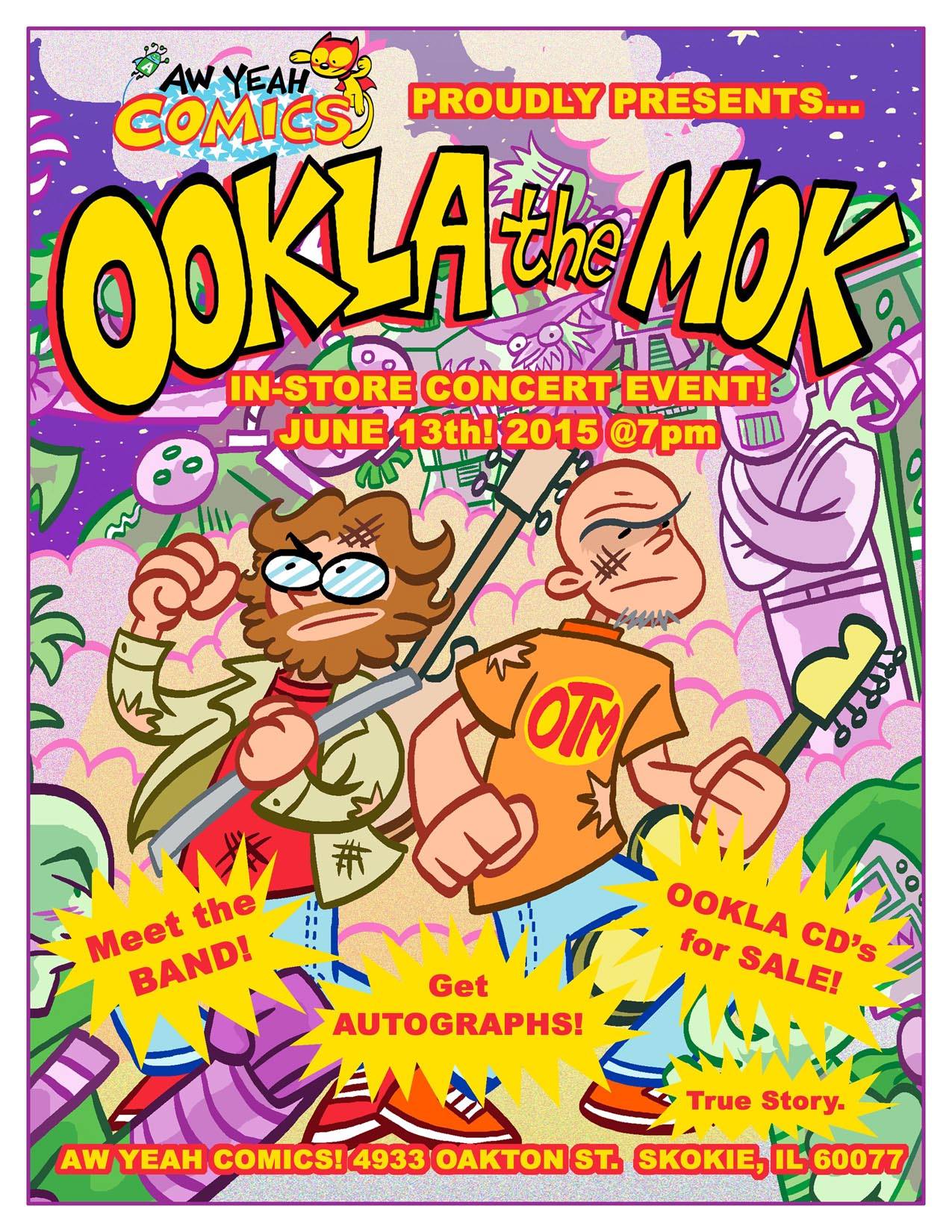 MAY 15 / 15
WHERE ARE MY BOOKS?
Children's book writer and illustrator (and good friend) Debbie Ridpath Ohi asked us to write a song to help promote her first solo picture book "Where Are My Books?" which is available now from your favorite book seller. The song is currently available through iTunes, Amazon, and CDBaby (see circular links to the right, or you can listen to it through our Music Player embedded below) and is the soundtrack to the following promotional video.

You can find out more about the video HERE, and the book itself HERE.
SEP 01 / 14
THE OOKLA MUSIC PLAYER IS LIVE!
Below you should notice the brand new Ookla the Mok Music Player. From there you can listen to and/or purchase any of our songs. Converting friends to the Cult of Ookla has never been easier. Simply point them to this very web site and let them know which song to start with!

---
JUL 07 / 14
OOKLA WINS LOGAN AWARD!
We are super excited to announce that our song "Mwahaha" won this year's Logan Award for Outstanding Original Comedy Song.

Thanks to this year's Jurors, members of the FuMP, and everyone who takes the time to discover and enjoy independent music! See you later this month at Confluence!

---
MAR 03 / 14
MORE OOKLA MEANS MORE IRON!
Ookla just added three more shows to the schedule, including a return to the mighty Marcon in Columbus, Ohio. Check out the "gigs" section to see if Ookla is coming to a city near you.

---
JAN 21 / 14
KENTUCKY FRIED OOKLA!
Ookla the Mok continues their 2014 Places We've Never Been tour with a Musical Guest of Honor slot at ConGlomeration in Louisville, Kentucky on April 11-13.

---
OCT 29 / 13
OOKLA IS COMING TO TEXAS!
We are very excited to announce that Ookla the Mok will be the Music Guests of Honor at next year's FenCon in Dallas/Fort Worth on September 24-26, 2014!

---
AUG 16 / 13
ON-LINER NOTES!
Fans of non-physical media rejoice! Scans of all our album packaging (including lyrics, song notes, full credits, front and back covers, j-cards, and CD art) are now available for your viewing pleasure. If you obtained your Ookla via MP3s, you're in for a treat. Fans of Smell No Evil in particular should take notice, as the illustrated libretto makes the album much less impenetrable. These liner notes can be accessed from the Albums or the Lyrics page.

And look for our Lyric Blog, coming soon!
---
JUL 25 / 13
BE A PART OF ANCIENT HISTORY!
The Ookla the Mok Ancient History page is finally available. Take a tour through Ookla's embarrassing past! Gaze at posters from previous live shows. Read biographies from old con programs. Sift through press clippings and album reviews from dead and dying newspapers. Use the Waybackmachine to observe earlier iterations of Ookla's website. Check out Ookla proto-blogs with entries going back as far as July of 1997. Check it all out right here!

---
JUL 6 / 13
CON ON THE COB!
We are very pleased to announce that Ookla the Mok will be the Music Guests of Honor at this year's Con on the Cob, which will take place October 17-20, 2013 in Hudson, Ohio. We hope to see you there!

---
MAY 9 / 13
CONFLUENCE CANCELLED!
We are sad to report that we will not be performing in Pittsburgh later this summer, due to the unfortunate cancellation of this year's Confluence. Confluence should be back next year, better than ever -- and we hope to perform a concert there in 2014.

---
APR 12 / 13
OOKLA IS ON SOUNDCLOUD!
Click Here to listen to lots of Ookla songs or share your favorite Ookla song on your chosen social media site.

---
MAR 26 / 13
READ ALONG WITH OOKLA!
Lyric booklets are now available for download on the vs. Evil and Nerdvana album pages. Check'em out!

---
MAR 14 / 13
AND THEN THERE WAS DIGITAL
Digital downloads are officially available for OOKLA THE MOK vs. EVIL on iTunes. Get your copy now!

---
MAR 13 / 13
ISSUES RESOLVED!
The day has come! Warn the neighbors and hide your children! The OOKLA THE MOK vs. EVIL CD is available right now! (Digital downloads should be available very soon.)

---
MAR 12 / 13
ALBUM RELEASE ISSUES
Due to circumstances beyond our control, the official release of Ookla the Mok vs. Evil will be delayed a tiny bit. Sorry for the inconvenience. The album should be available (both physically and digitally) by the end of the week.

Thank you for your patience.

---
FEB 28 / 13
WEST COAST VENTURE
Ookla the Mok makes their triumphant return to the Bay area for their fourth appearance at Consonance, March 1-3. This appearance will feature the reunion of Classic Ookla, as Rand and Adam are joined on stage by original drummer Luis Garcia, and original bass player Michael Mallory. This version of Ookla has not performed on stage together in over a decade!

---
FEB 27 / 13
BRAND NEW WEBSITE LAUNCHED!
Taste and See that Ookla is Good! And mark your calendars!
March 12 is the official release date of Ookla the Mok vs. Evil.